Granite countertop FAQ
---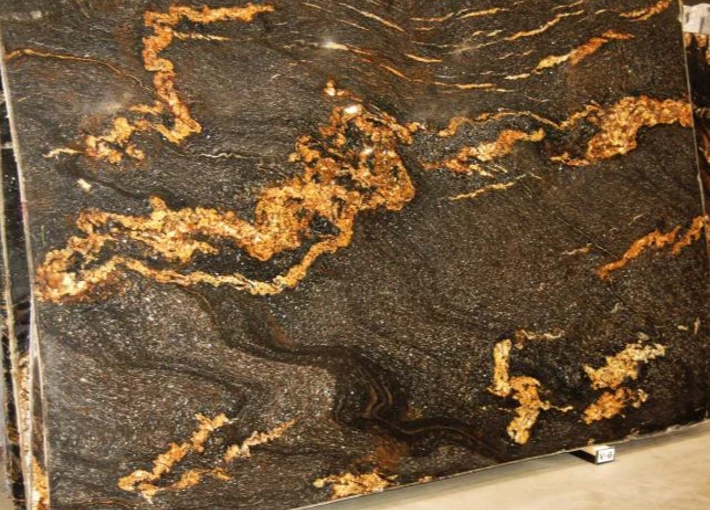 Benefits of Granite Countertops
Granite is extremely durable and non-porous.  It can take a real beating and still look just as gorgeous as the day it was installed and sealed!  In fact, your knives might dull if you accidentally scrape them across a granite countertop.  Hot surfaces won't damage a granite countertop, and these types of surfaces also help cold foods and drinks stay cold.  Because granite is non-porous and needs to be sealed once a year, you don't have to worry about stains or contaminants damaging your beautiful countertops or table surfaces.  Granite countertops are good for the environment, too!  No harsh chemical cleaners are necessary here.  Just use a mild soap and warm water and any stains will lift right out like magic!  Lion Stoneworks nearby downtown Denver, Colorado, can help you shop for, measure, and install a granite countertop to your specifications. 

Wide Range of Granite Color Options Available
When most people think of granite, they may only think of gray.  Granite countertops come in a wide range of beautiful colors, and the minerals found within granite help to enhance and compliment the beauty of this unique stone.  Granite can be can be found in nearly any color imaginable, and the experts at Lion Stoneworks are more than willing to work with you to make sure you get the color of your dreams!  If you're not sure where to start, browse our gallery to get ideas, or stop by our shop in Denver, Colorado, to see our samples up-close and personal!  Whether you prefer your interiors dark, light, or anything in-between, we can help you find the perfect accent with either just a pop of color or an entire color scheme!

Customizable Granite Countertops
Granite countertops can be cut, polished, and installed at nearly any measurement, in any shape, and almost any size.  Granite is customizable, resilient, and beautiful.  We are expert stone-cutters who specialize in granite countertop and table tops.  We can cut your countertop to any specified measurements and install and seal it for your convenience.  We can help you choose the perfect shape, color, and size to ensure you get the granite countertop or table top of your dreams!  Whether you need a countertop, back-splash, bathroom countertop, and even need granite table tops to complete your look, Lion Stoneworkshas got you covered!  We will work with you until you are completely satisfied with our installation, and we won't quit until we get it right!  No matter what size, style or shape you need, we can help you with measurements, installation and sealant.  Our experts will help you every step of the way!

Granite Countertops for Every Budget
Granite countertops are affordable, durable, extremely easy to maintain.  Granite prices are calculated by the square foot, so accurate measurements and cutting techniques are important.  Whether you need an entire slab or you would rather go for the unique look of granite tile, we'll help you find exactly what you're looking for!

Lion Stoneworks is involved in every step of your installation process so we can help you take accurate measurements, choose your prefect granite color, and make sure you get the look you want.  Because these types of countertops are easy to install once they've been cut, we finish our work quickly and professionally, and we'll even give you tips on sealing and maintenance once we've finished. 

Every room in your house can be a show-stopper when you choose granite for your countertops or table tops.  

Enhance the Beauty of Your Home with Granite Countertops
One of the best things you can do to enhance the beauty of your home is, install granite countertops.  With numerous benefits and a rainbow of granite colors, this budget-friendly, life-proof material is the perfect choice for your kitchen, bathroom, or any other room in your house where you need a large, flat surface that is as practical as it is pretty!  Everyone at Lion Stoneworks is ready and able to show you all the beautiful and durable options we have to make your home the showplace it deserves to be!

Easy to Maintain
Granite countertops must be sealed annually, but that's a simple process.  Lion Stoneworks can either do this for you or show you how to do it.  Our quick and easy installation process means less time and hassle for you.  Call Lion Stoneworks in Denver, Colorado, to schedule your next granite countertop purchase and installation.  We're just a phone call away!
Go Back