Start Renovating Your Cabin
Cabin - Get Inspiration And Tips
---
By Liz Valenzuela - January 12, 2023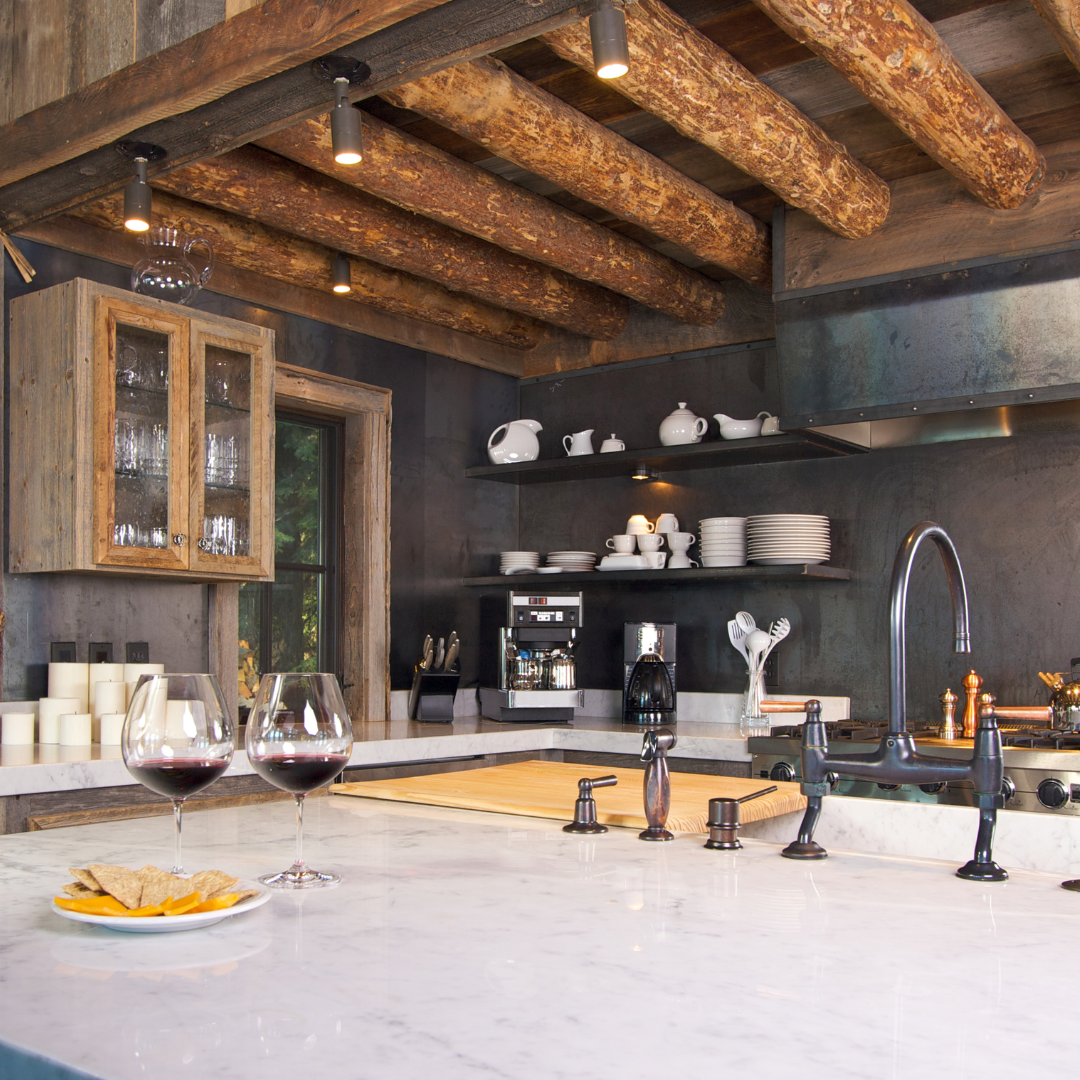 Designing A Dream Kitchen For Your Cabin Home Getaway
A broad array of designs are available for today's cabin kitchens.
Modern cabin kitchens are available in a wide variety of layouts and styles. There is a vast range of possible architectural styles for your dream getaway cabins, ranging from contemporay/modern rustic cottages, to ultra-luxurious chalets and everything in between.

When you start the process of constructing or remodeling your cabin, the first thing you need to do is decide which parts of your lifestyle you value the most—in terms of comfort or style.
Always try to find the perfect balance between the two choices.

 
Popular Components of Design in Cabin Kitchens
There are some décor aspects that are exclusive to cabin kitchens that distinguish these spaces from other kitchens and bind the many looks of cabin kitchens together into one cohesive whole.
Wood Tones - Almost all log home kitchens include at least one item made to seem like it was crafted from wood. The wood might be the flooring, the cabinets, the wooden ceiling beams, or the creative elements.
​Warm and welcoming surface textures - The greatest cabin kitchens have their own special twist, yet they all have a vibe of warmth and comfort. You may do this by using materials from the earth, such as wood, leather, wool, and marble. The second thing to remember is to furnish the kitchen area with some comfy seating so that guests you may relax while you wait for your morning coffee.

Exposed brick or natural stone - Is a common design element in rustic kitchens because it adds a homey feel. It's the ideal finishing touch for a rustic cabin since it makes the kitchen seem more cozy and natural. Moreover, in country cabin kitchens, natural stone is often utilized for bathrooms, backsplashes and the countertops.

Ambient Lights - The optimal lighting for a modern log house kitchen is a mix of multiple ambient lights, rather than a single source. To create a captivating and dynamic lighting design, it is essential to use many lighting levels. Install hanging lights, under-cabinet lighting, and recessed light fixtures for optimal brightness.

Wide-Spread Layout – Most modern to luxurious cabins, bungalow, or chalets; no matter how small, have beautiful open layouts that make it possible to view the kitchen from other rooms, such the living room or dining room.

Metal Elements - Upscale kitchens in cabins often have decorative components made of metal, such as copper, bronze, iron, and brushed metals. Outdoor kitchens are commonplace to incorporate contemporary and stylish cabins often use stainless steel and chrome.

Conclusion
The types of kitchens found in cabins are as diverse as the types of cabins themselves; nonetheless, the kitchens that are the most inviting include tiers of lighting, natural hardwood , stones, and pleasant textures. Utilize them in your home kitchen to give it a personal touch, or make use of them to make your log cabin seem more warm and welcoming to family and guests. Preserving a log house is an act of love.



Go Back